People are like stained-glass windows. They sparkle and shine when the sun is out, but when the darkness sets in, their true beauty is revealed only if there is a light from within.


----Elizabeth Kübler-Ross


Take a Real
Spiritual Journey
It's what you've been looking for!

Sponsored by:
The Heart 'n Soul.com Network
The Network That Truly Cares!








Edgar Cayce
America's most documented psychic!

The Association for Research & Enlightenment
America's greatest resource of genuine spiritual knowledge!



The Story of Edgar Cayce

Some Interesting Topics From His Readings:

Edgar Cayce Readings


Included is a complete index of all of Cayce's Readings!








Gary Zukav

Check out today's:







Oprah

Dr. Phil

Check out Dr. Phil's:








Father Leo
A priest cut from a very different cloth!
He says you don't have to be religious to
be spiritual. Imagine a priest saying that!

Check out his:








Rose's Beautiful and Inspirational Website
These are pages you simply must see!
Look for her index!








Leo Buscaglia's Love Quiz
Have you made someone smile today?








Deepak Chopra

Check out his Daily Wisdom:








Tony Robbins

Note:
Click on the words:



to read Tony's daily message.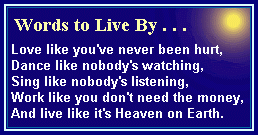 I'm not a teacher, but an awakener. - Robert Frost

No one can make you feel inferior without your consent. - Eleanor Roosevelt

And in the end it's not the years in your life that count. It's the life in your years. - Abraham Lincoln








(Choose your state on a U.S. map)







OR


Copyright © 2001-2004

The Heart 'n Soul.com Network (www.heartnsoul.com)

All rights reserved.